many cultures have a dumpling of some sort in their culinary repertoire.  when discussing dumplings, i am usually referring to the filling-in-dough variety that i grew up eating and loving.  from tibetan momos to polish pierogi, they are all welcome on my plate.  i have rarely come across a dumpling that i didn't like and the ones at qing hua are no exception.
when they first opened at their original location on st-marc, their dumplings created quite a buzz because you were hard-pressed to find anything else like it in town.  due to zoning issues and popularity, the restaurant relocated to a slightly larger space and can now be found on lincoln.  the dumplings served at qing hua were quickly mislabelled as soup dumplings, a name usually reserved for shanghai's xiao long bao. these they are not.  the restaurant calls them "juicy dumplings" and they are dalian-style dumplings, a specialty from liaoning in northeast china.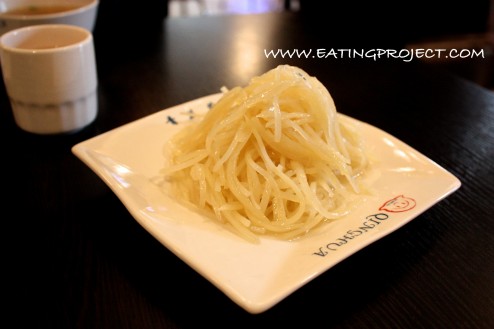 my first visit was for lunch.  we were some of the first patrons there, but the room quickly filled with dumpling-seeking diners.  complimentary tea and miso soup were served, although the latter wasn't brought to the table on a return visit at supper time.  i don't know if this is the norm or if they simply ran out of soup, but it didn't make much of a difference to me since the free soup, although much appreciated, was unremarkable.
a better way to whet your appetite would be to order one of their appetizers.  if you're in the mood for something unusual, try the chinese potato salad.  don't expect to be served mayonnaise-covered chunks of potato with gherkins and dill.  here, you will get cold thin strips of potato seasoned with sesame oil and vinegar.  a faint sweetness can also be detected in the dish.  although it may not look like much on the plate, the flavours of the chinese potato salad are oddly satisfying and addictive.  for the heat lovers, a spicy version is also available.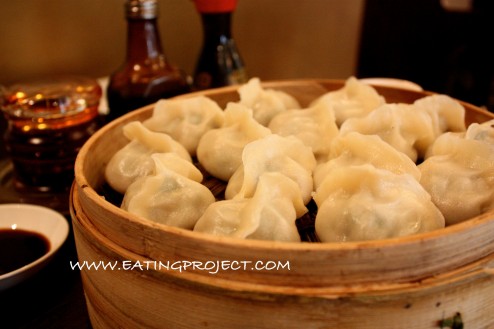 no visit to qing hua would be complete without sampling their dumplings.  after all, they are the dumpling house's claim to fame.  many fillings are available for you to choose from and you can have them steamed, pan-fried, or boiled.  when you factor in the different fillings and cooking methods, variety is not what is lacking.  for a small additional fee, you can have a split order; two fillings, two cooking methods, or a combination of both.  there are fifteen dumplings to an order.  a respectable number that is enough to satisfy my appetite.
one of the more popular choices on the menu, and one of my favourites, is the steamed lamb & coriander dumplings.  the lamb is fatty in a desirable way and the coriander adds a taste of freshness.  the handmade dumpling skins may not be as thin as the store-bought ones, but they're not overly thick either.  they seemed just right for containing the broth.  although soy sauce, vinegar, and chili sauce are available at each table for creating your own dipping sauce, i never found a use for them.  the dumplings are good enough on their own.
as the dumplings arrive at the table in their bamboo steamer, i would strongly advise against popping a whole one into your mouth.  the juicy dumplings contain broth that is still piping hot and that will undoubtedly burn your insides.  my modus operandi is to pick up a dumpling with my chopsticks, look it over and take a small bite out of the corner where the seal seems the least secure – this helps in avoiding the embarrassment of squirting your neighbour with broth.  i then wait a few seconds for the contents to cool down before eating the rest of the dumpling.  as the number of dumplings dwindle and they have cooled down a bit, i like popping whole ones into my mouth.  the resulting explosion of warm broth in my mouth is something i quite enjoy.
among the many fillings, my least favourites are the ones containing egg and the shrimp & pork combo.  this is not a critique of their taste or quality, but a matter of personal preferences.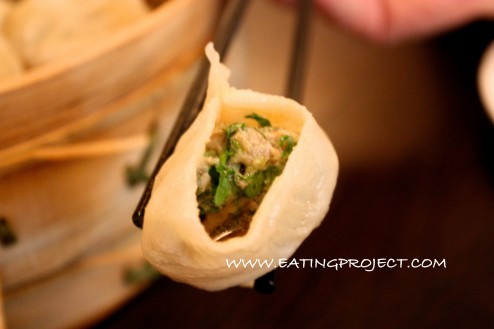 all the dumplings are handmade to order, therefore a little patience is a must.  i have read many reviews where people complain about the time it takes to get their food and this annoys me to no end.  if you are one to lambaste an establishment because of the wait involved in getting freshly prepared food made from scratch, then you might want to find a place that simply reheats frozen dumplings and leave room at qing hua for those who appreciate the efforts of the kitchen staff.  this being said, i have to point out that service here can be brusque.  they take your order and serve your food with barely a smile and no chit chat.  also, the front of house staff speaks limited basic english and, as far as i know, no french.  this may contribute to a feeling of authenticity, but in the long run, may not work in their favour in our language-obsessed province.  i strongly believe that we should all pick our battles.  i come here for the food, not the service.
if you can't get enough of their dumplings, you might be interested in knowing that a limited selection of their dumplings are available frozen for you to take home and reheat at your leisure.
qing hua dumpling
1579, avenue lincoln
montréal, québec
H3H 1G9
T: 438.288.5366
payment methods: cash only
hours:
11h00 – 23h00, daily