i have eaten many meat pies in my lifetime.  usually, i find myself devouring some variation of the tourtière at somebody's christmas dinner party.  however, in the spring of 2010, i discovered something new.  ta (also known as tourtière australienne) had opened up on parc avenue and they were serving australian classics such as meat pies and sausage rolls, as well as a variety of imported goodies.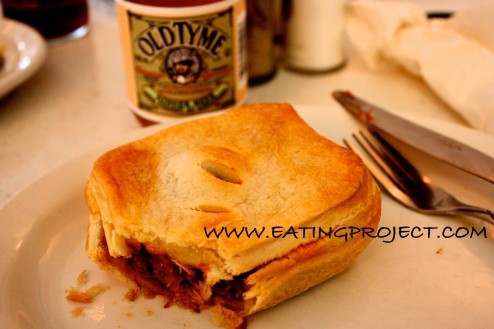 while you can come here to find timtams and vegemite, the main attraction is the pies. locally sourced fresh produce, herbs and spices are used to make the casseroles and curries that go into the pies.  the vessel for the fillings is a pastry that is handmade using a two-day process that results in flaky, buttery layers.  at last count, their menu consisted of 18 pies including breakfast and vegetarian varieties. also, they sometimes offer a special of the day.  i have not tasted every single pie, but i do have my favourites.  the lamb rogan josh pie tops my list.  this mildly spiced pie marries two of my food loves: curry and buttery pastry.  the generous pieces of lamb are tender and the curry is aromatic.  on a side note, i recently discovered that a spicy ginger beer pairs nicely with this one.  also receiving top marks in my books is the steak & cheese pie.  don't look for ground beef in this pie; you get actual chunks of steak.  i eat this one like many aussies do by topping it with tomato sauce (ketchup) and the resulting taste is strangely reminiscent of a cheeseburger.  i like it.
the pies are available in individual and family sizes.  you can find many of the individual-sized ones hot and ready to eat in house (or on the go) and all of them are available frozen.  i suggest you call ahead to make sure that the pie you want is in stock.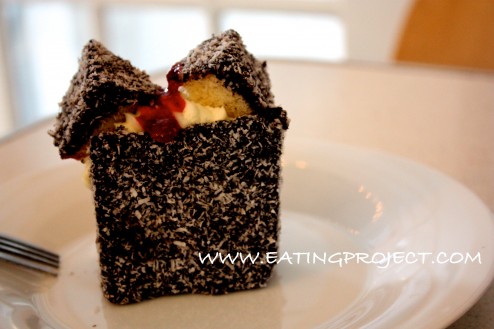 a selection of homemade desserts are also available.  i have sampled a few, including the lamington, afghan biscuit, anzac biscuit, and pavlova.  the desserts, with one notable exception, are too sweet for my liking.  the one that stands out and will have me coming back over and over again is the timtam tiramisu.  rumour has it that this is a chef don hudson original, a ta creation.  this dessert is made of timtams soaked in tia maria with an espresso and mascarpone mousse.  so simple, so delicious.  [edit - january 20, 2012: i have just been informed that the timtam tiramisu is no more.  sadly, it was not cost-effective to make.  i will miss it greatly.]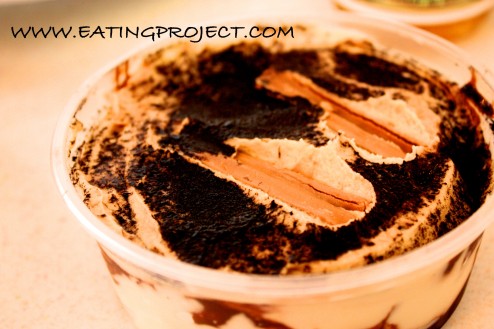 as the cold weather settles in, one way to warm up would be to head over to ta – or australian pie, as i like to call it — for some homemade classics from down under. don't forget to stock up on some frozen pies.  not only are they slightly cheaper, but they are perfect for when the mercury drops to -40°C and venturing outside is out of the question.  that being said, their pies are good in all seasons.

ta (tourtière australienne / australian pie)
4520, av du parc
montréal, québec
H3N 1S6
T: 514.277.7437
ta-pies.com
payment methods: cash, debit, credit cards
hours:
tue 10h – 19h
wed to fri 10h – 20h
sat 10h – 19h
sun 10h – 18h
closed mondays