happening gourmand is an annual event that bills itself as montreal's version of new york's popular restaurant week. however, there are differences.  while restaurant week covers a wide range of cuisines and criss-crosses nyc, our humble event is concentrated in old montreal with restaurants offering similar menus.  it should also be noted that the participating establishments are all owned by the antonopoulos group. this year's edition of happening gourmand has seven restaurants offering prix-fixe menus for a three-course meal.  the premise of the event is for food-lovers to experience the food at a fraction of the price.
this year was my first time experiencing happening gourmand.  we put it to a vote and decided on taverne gaspar.  here, the prix-fixe menu was $23 before tax and tip. there were menu items that incurred additional costs, but i steered clear of those because i wanted to see what the bare minimum would get me.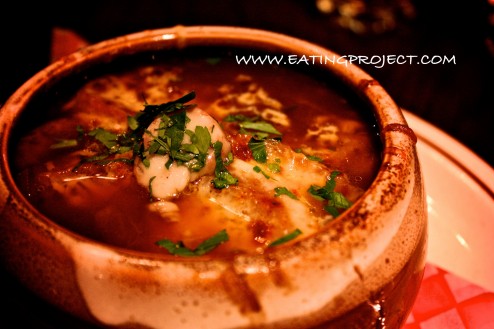 as an entrée, i picked the onion soup with bone marrow.  after a trek in the blistering cold, a hot soup was more than welcome.  with a fair amount of caramelized onions, at least two slices of bread, and a good dose of melted cheese, the soup was substantial and comforting.  although the broth had a deep flavour, i cannot say for certain that it was the result of the bone marrow.  if marrow was used to flavour the broth, it was too subtle to be discernable. the bone marrow that i could detect visually and by taste was a lone portion sitting atop the cheese like a garnish.  sadly, the piece that came with my soup was almost all fat and barely any red marrow.  as a french onion soup, it was perfect.  however, even though i did get an onion soup with a piece of bone marrow, i couldn't help but feel misled by the description.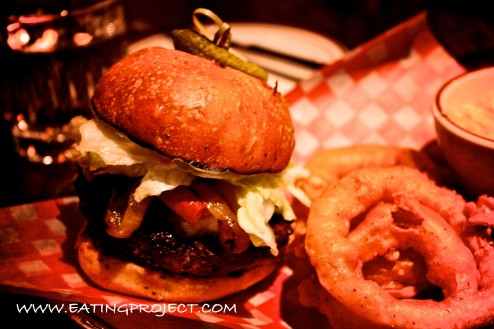 after reading reviews that stated that the tavern burger with manchego & pork belly was a must-have, i naturally opted for that as my main course.  unfortunately, it did not live up to the hype.  my burger was garnished with sautéed onions, a slice of grilled tomato, three leaves of iceberg lettuce, and manchego. i want to be able to tell you that the cheese tasted like manchego, but the beef patty overpowered all the other components and not in a good way.  the meat is the soul of any burger and when it is poorly executed, the whole thing falls flat. three of us ordered the tavern burger and we thought the meat was overcooked.  the inside of the patty was way past medium-well and the outside was charred in many areas, imparting a burnt taste that lingered in the mouth.  the burger's one saving grace was the slice of pork belly that was nice and crispy.  the tavern burger was served with sides of coleslaw, onion rings, and pimenton aioli.  the coleslaw had a nice crunch to it and its subtle acidity served well as a palate cleanser between bites of the disappointing burger.  the onion rings, four on each plate, were crispy but very greasy; they left a glistening film of oil on my fingers and a coating in my mouth that required more than a few sips of ginger ale to rid myself of. the pimenton aioli had a very subdued flavour but was useful for cutting the greasiness of the onion rings.
others at the table decided to order the baby back ribs with jim beam bbq sauce. they seemed to enjoy them, but only they can share their impressions of their meal.  the words "fall off the bone" were heard at the dinner table.  i did have a taste of their fries and they were desirably crispy and far from the greasy mess i got with my onion rings.  how can two deep-fried items be so different?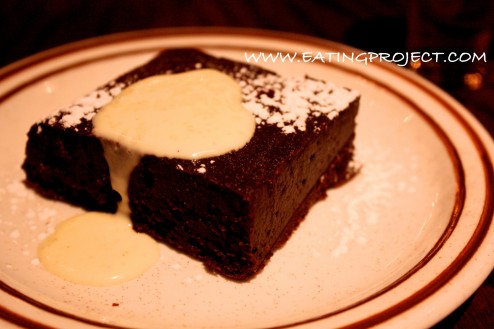 for dessert, i opted for the dark chocolate flan with vanilla crème anglaise.  this was definitely the highlight of my meal.  it was unlike any flan i have had before, this one was dense yet smooth and delicious.  it was almost like a cross between a chocolate mousse, brownie, and flan.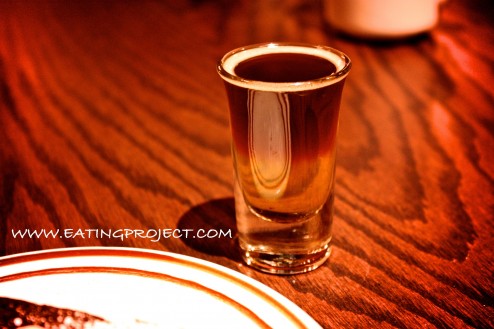 at the end of the meal, the table got a round of free free coffee shots.  you can take advantage of this promotion when three people from your table check in on foursquare during happening gourmand.
although i regret not choosing a different main course, the rest of the meal was pretty good, the service was friendly and i was in great company.  if the goal of happening gourmand is to draw in first-timers with lower prices and turn them into repeat customers at full-price, the restaurants better make sure that the food is flawless. unfortunately, i found that the tavern burger was something i could have gotten at any backyard bbq.
taverne gaspar
89, rue de la commune est
montréal, québec
H2Y 1J1
T: 514.392.1649
www.tavernegaspar.com
payment methods: cash, debit, credit cards
hours:
breakfast daily 6h30 – 10h30
sun to wed 17h00 – 23h00
thurs to sat 17h00 to 24h00