time magazine once wrote that schwartz's deli is "the best place in the milky way to sample smoked meat sandwiches!".  considered by many to be a montreal institution, a meal here is one experience that lifelong montrealers and visitors alike must not forego. many new yorkers dare not say it out loud, but i know of a few who think that a schwartz's smoked meat sandwich is better than its pastrami counterpart.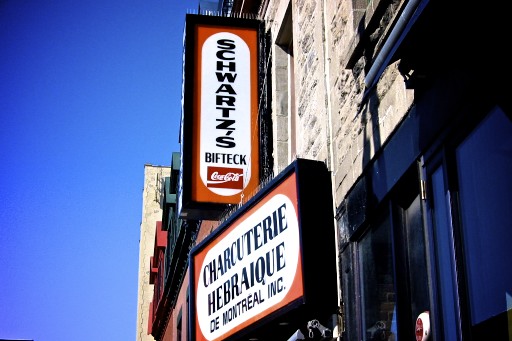 founded in 1928, schwartz's hasn't changed much since then.  it's small, it's crowded, and you're often sandwiched between strangers.  no matter what time of the day it is, there is often a line up out the door composed of a healthy mix of people waiting for a table and placing takeout orders.  you don't always get service with a smile, but it is quick and efficient.  the best way i can think of describing the atmosphere of the place is subdued chaos.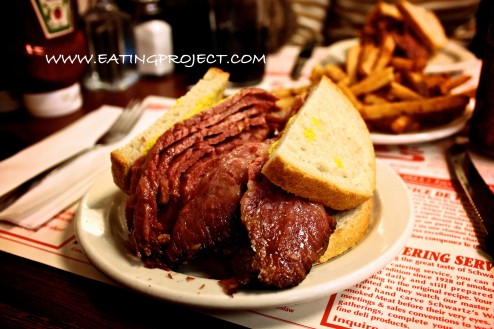 if you only come here once in your life and only order one thing off the menu, make sure that it is the smoked meat sandwich.  when asked if you would like to have your meat lean, medium or fatty, make sure you remember these magic words: medium juicy. a perfect smoked meat sandwich almost always follows.  served on seeded rye bread, the deep-coloured meat is nicely marbled, making it juicy and flavourful.  the sandwich is messy to eat, there are never enough napkins, and you will surely need to use a toothpick afterwards, but i wouldn't have it any other way. for me, a perfect meal here consists of a smoked meat sandwich with mustard, a side of french fries and a pickle. a traditionalist will wash it all down with a cherry cola, but i find it too sweet for my taste and usually order a ginger ale instead.  although it is still good as takeout, the smoked meat sandwich is best eaten in-house.  there is nothing better than freshly-sliced, steaming hot brisket.
at schwartz's, the meat is prepared the old-fashioned way. the briskets are rubbed with a secret blend of herbs and spices, marinated for ten days and smoked daily.  they have certainly mastered this artform and manage to deliver a unique taste.  many restaurants serve good smoked meat, but only one place serves schwartz's smoked meat.
schwartz's montreal hebrew delicatessen
3895, boulevard st-laurent
montréal, québec
H2W 1X9
T: 514.842.4813
www.schwartzsdeli.com
payment methods: cash only
hours:
sun to thurs: 8h00 – 24h30
fri: 8h00 – 1h30am
sat: 8h00 – 2h30am