i grew up on chinese food.  whether eating at home or out at restaurants, it was all about the cantonese food.  my parents rarely deviated from this cuisine.  after all, 'mainlanders' were a scarcity in our city when i was a child.  it was only as i got older, and the chinese population here diversified, that i started to expand my papillary horizons and discovered that there was more to chinese food than the dishes of my ancestors.
in recent years, the area around concordia university has seen an increase in asian eateries, leading many to refer to it as 'chinatown II' or 'new chinatown.'  late last year, kanbai jumped into the game.  catering to those yearning for a taste of home and those searching for authenticity, this restaurant serves regional specialties from the szechuan and hunan provinces without compromising flavour.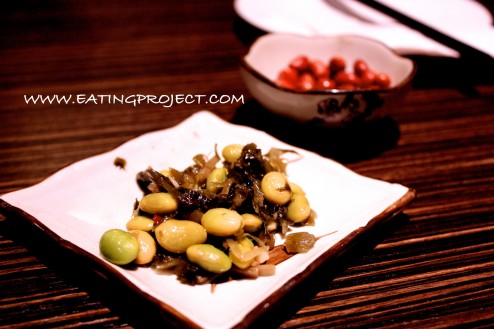 after being seated, we were brought menus and drinking glasses with the option of iced or hot water. as we perused the menu of unfamiliar dishes, we were served a complimentary soybean salad and a small bowl of peanuts.  the salad of green soybeans and preserved greens was delicately sour and whetted the appetite.  the salted peanuts with the skin on also had a hint of sweetness to them.  a light sprinkle of sugar, perhaps?  these were great to nibble on and a good way of tiding us over while we waited for our food.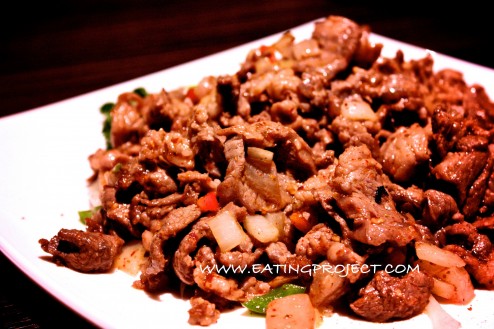 the first dish to hit the table was the hot & spicy peppery lamb with cumin.  the slices of meat were juicy and not as spicy as one would expect.  the chili powder was used with a light hand and the bulk of the flavouring came from the onions, bell peppers, and cumin.  this was a great way to start the meal without a full on assault of chili.  i soon learned that this tamer dish was great for tempering the heat in the mouth between servings of the spicier dishes.  there were a few sinewy bits, but that didn't bother me much since most of the dish was delicious lamb.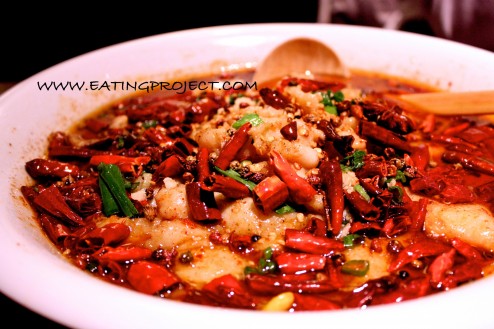 next came the impressively large bowl of poached fish filets in hot chili soup. swimming among the many bird's eye chilies, szechuan peppercorns and bean sprouts were delicate pieces of unnamed fish.  the flesh was silky, fell apart in the mouth and slid down the throat beautifully – chewing was optional.  the soup was fiery enough to make the nose run a bit, but not potent enough to be incapacitating (for me, anyway). however, beware of the szechuan peppercorns; one accidental bite into one and your tongue will be numb as if the dentist gave you a shot of local anaesthetic.  don't worry, it wears off eventually.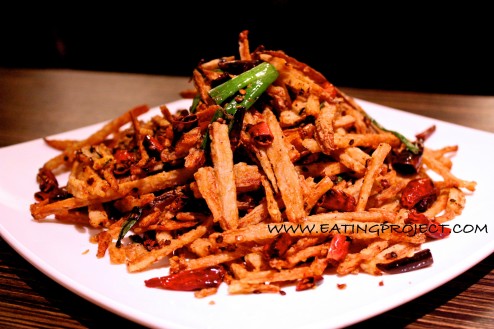 the dry fried shredded lotus roots with chili are a new addiction of mine.  these were just like french fries, but better.  even sweet potato fries can't hold a candle to these in my books.  perfectly crispy, they were fried along with bird's eye chilies, szechuan peppercorns, scallions and a heavy dose of salt.  i loved this dish so much that i sometimes have disturbing dreams about using these fried beauties in a poutine. although highly addictive, i hope that next time the cook will show a little more restraint with the salt because this was the one dish we could not finish.  also, it would have been better if the mountain of shredded lotus roots was served as an appetizer or side dish rather than a main.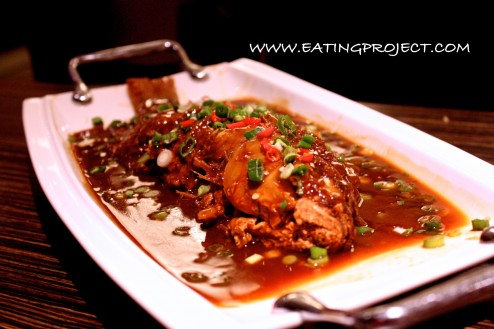 as crazy as it may seem, we decided to order two fish dishes.  while we were waiting in line for a table and noticed many people eating the fried tilapia in brown sauce with shallots (scallions) and we wanted to try it because it looked good.  well lets just say that looks can be deceiving.  the tilapia had an earthy taste that is not uncommon with this fish.  due to being fried, the flesh was not nearly as silky as the poached fish.  the mystery brown sauce was slightly sweet.  overall, the flavours were muted.  after experiencing the bold flavours of the other dishes, this one was a bit of a letdown.
to accompany the meal, we requested a large bowl of rice.  we were three people and it was a good amount of rice for the number of dishes we ordered.  the rice was a little different from your plain white rice.  i am not sure, but could it be that it was a mixture of jasmine and glutinous rice?
after the many positive newspaper reviews, word has gotten out that kanbai serves good food.  therefore, don't be surprised if there is a lineup.  we showed up at 7pm, right in the middle of the dinner rush, and we waited close to 45 minutes for a table. service was friendly, but the waitresses were so busy running around that flagging down someone to take our order or to refill our glasses was not an easy feat.
at kanbai, there is no fear of offending the western palate; the food is served as it should be – bold, pungent and fiery.  they stay true to the cuisine as well as they can without having the kind of access to ingredients as they would back home.
kanbai
1813, rue ste-catherine ouest
montréal, québec
H3H 1M2
T: 514.933.6699
payment methods: cash, debit
hours:
mon, wed to fri: 11h30 – 15h00 (closed for lunch on tues)
mon to fri: 17h00 – 23h00
sat to sun: 12h00 – 23h00