this quaint little pastry shop is everything you'd want a neighbourhood joint to be like. there are people going in and out, picking up anything from bread to pastries to cakes. in the tiny adjoining café, you have your regulars with usual orders that the waitress seems to always remember.  there are groups of old men having animated conversations over coffee, children tucking into their pastries with tiny glasses of orange juice, friends and couples enjoying a light breakfast…  everybody is friendly and smile at you whether they know you or not.  people come here to be social and have a good time, not to be hunched over books or laptops.  this place reminds me of simpler, carefree times and that is why i like it.  sadly, places like this are a rarity rather than the standard.
i was first introduced to le paltoquet by b.  many moons ago, it was supposed to be the location of our first breakfast date and the first of many eating adventures together. unfortunately, i was finishing a weekend night shift and this little pastry shop/café wasn't opened yet.  we headed elsewhere that day, but we made sure to return on a weekday when they opened their doors a little earlier.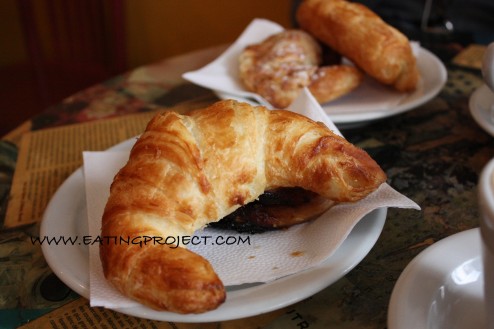 if you come for nothing else, come for a taste of their croissants au beurre.  they may be smaller than your usual supermarket variety, but they are made with pure butter and are beautifully flaky.  biting into the crispy outer layers gives way to a buttery soft inside.  light as can be, these crescent-shaped rolls are close to perfection in my books. while delicious on their own, i discovered that subtly sweet jams go surprisingly well with their croissants.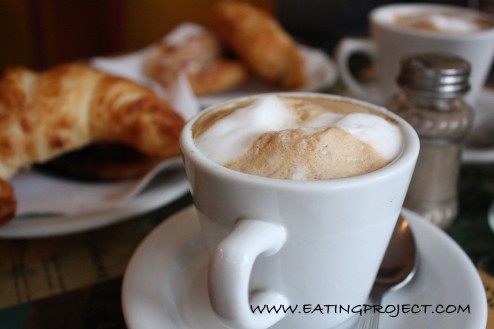 although i am not much of a coffee drinker, nothing seems to go better with flaky french pastries than a good café au lait.  whether sipping the coffee from a mug or a bowl, the velvety foam that lingers until the very last drop always reminds me that this is anything but filtered coffee in a paper cup.
another must-try is the croissant aux amandes.  with a light dusting of powdered sugar and slightly larger than the croissants au beurre, these beauties have an almond filling that is more like a thick cream than a paste.  not having much of a sweet tooth, i am also glad to report that the deliciously moist filling is far from cloying.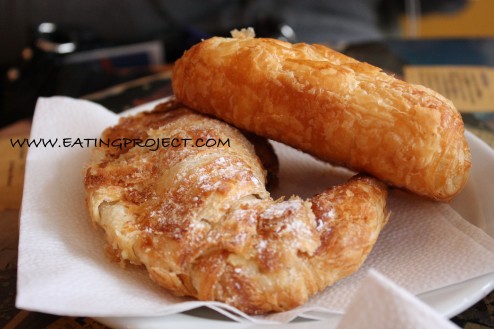 the pain au chocolat is another staple order of mine.  unlike the dense bread-like versions i've had elsewhere, here they have the same layers of crispy, flaky, buttery pastry as the croissants.  the semi-sweet chocolate filling helps cut the richness of all the butter.
one item they seem to run out of quickly is their chausson aux pommes.  this apple turnover doesn't have apple slices as a filling, but something more akin to apple sauce. although the sugar content leads to occasional burnt spots, the chausson is not overly sweet.  even though it is good as is, a slightly larger pinch of cinnamon would help round out the flavours.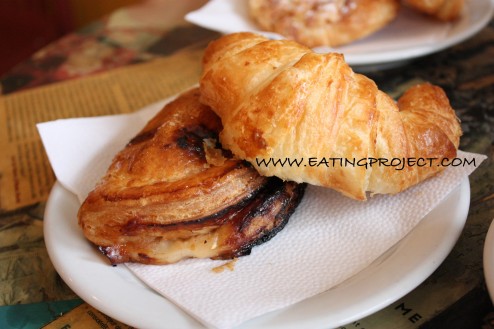 service is quick and friendly, but there have been a few occasions where memory lapses caused the waitress to forget the jam or bring my coffee in a mug instead of a bowl.  a gentle reminder is all that is needed to rectify the situation.  i like this quaint little neighbourhood café and i worry that by sharing this post, i may inadvertently rob it of its charm.  however, to not share this place would be selfish on my part.  i can only hope that le paltoquet doesn't get taken over by laptop-toting café squatters (not that my humble little blog has that much reach anyway).
le paltoquet
1464, avenue van horne
montréal, québec
H2V 1L2
T: 514.271.4229
le paltoquet's facebook page
payment methods: cash, debit
hours:
mon to fri: 8h00 – 18h00
sat to sun: 9h00 – 18h00