laos is a country that shares borders with burma, china, vietnam, cambodia, and thailand. sharing borders means access to a similar pantry. naturally, the food of different asian countries is influenced by and influence each other.  therefore, if you are a little apprehensive about trying a new asian cuisine, you need not be.  although distinct from other southeast asian cooking, lao cuisine is heavily influenced by the cuisine of thailand.  if you like thai food, chances are that lao food is not too much out of your comfort zone.  if you are willing, head on down to ban lao-thai for a taste of laos.
this restaurant, the only one i know of in montreal that serves lao food, is quite the embodiment of the term hole-in-the-wall.  the space is no larger than a spacious hallway and at quick glance, seats less than 30.  there is an open kitchen and the staff speaks loudly in a language that is incomprehensible to me.  it's like eating in a family's home and just the way i like it.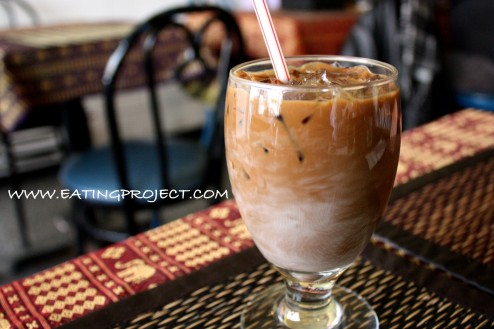 part of the menu is divided into thai and lao specialties.  my original plan was to only order from the latter, but when it came to drinks, the siren call of the thai iced coffee was too hard to resist.  the bold tasting coffee was presented with a beautiful swirl of evaporated milk at the bottom.  unlike vietnamese coffee that uses condensed milk, this version is a lot less sweet and perfectly suited for soothing the fire that will undoubtedly erupt in your mouth with a taste of certain menu items.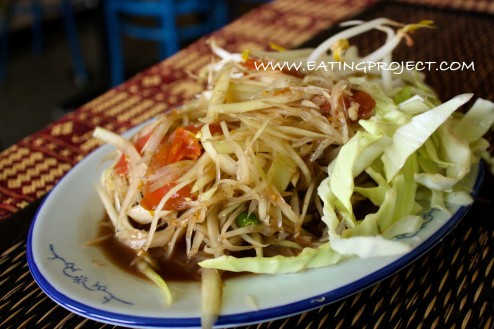 the lao-style papaya salad (tam mak hoong) is one of the dishes that will require the fire-taming properties of the aforementioned thai iced coffee.  as i ordered, i was asked whether i wanted the salad to be spicy or not and i requested a medium spice level. although i do have a high tolerance for spice, the papaya salad was spicy to the point of me not wanting to experience the dish with the heat level that the lao family running the place is used to. the chilies may be dominant, but you can still taste the shrimp and crab paste, as well as the fish sauce used to flavour the juliennes of green papaya.  this salad is definitely spicy and pungent; an acquired taste if you will. although i enjoyed it, i could not finish it.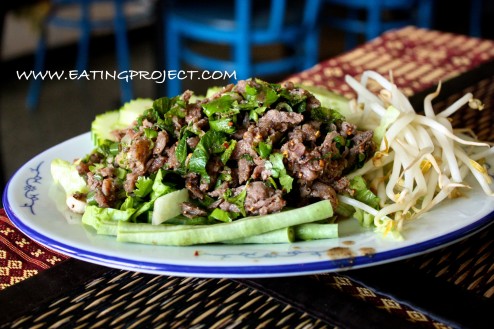 the beef salad offered a welcome respite from the previous dish's assault on the taste buds.  also known as laap ngua, the main ingredient of this lukewarm salad is chopped up strips of beef.  there was also a little heat from chilies, a lot of mint and the subtle taste of lemongrass.  it tasted like freshness, like summer.  my mouth was happy and best of all, it made me forget that there was still snow on the ground outside.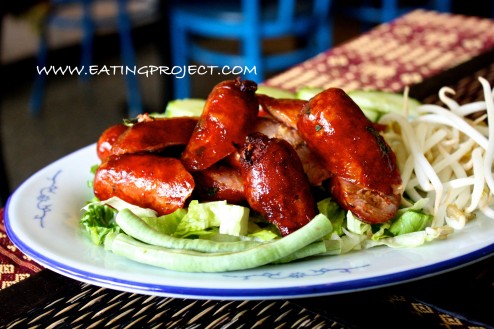 next up was a dish that was strangely addictive.  the lao sausages (sai kok) are made with chunks of pork.  the fresh sausages had a faint taste of lemongrass, very subtle heat from chilies, and a sweetness that was difficult to place.  texture-wise, it was almost a cross between a fresh sausage and a cured chinese lap cheong.  i didn't know what to make of my first bite, it was different from any other sausage i've had before. however, the more i ate, the more i liked and i found myself gravitating back to the dish until every last piece of sausage was gone.
to accompany the dishes, i ordered some steamed sticky rice.  those who have had sticky rice before will know that it is hard to manage with any utensil.  it is meant to be eaten with your hands, rolled into little balls or clumps along with bits and pieces of the main elements of your meal.  although a little frustrating to those who insist on using utensils, i highly suggest skipping the plain steamed rice and opting for the sticky version.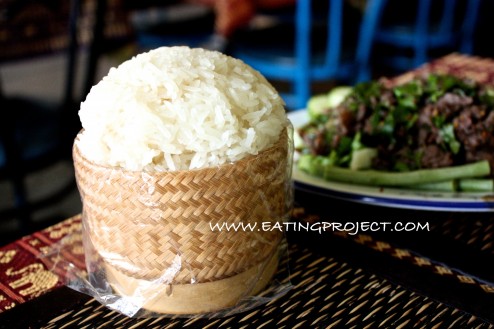 the drinks and dishes arrived at the table haphazardly as they became ready and one dish was completely forgotten, but the service was friendly.  the forgotten dish didn't pose much problem as we were already bursting at the seams when we realized the omission.  some of the flavours are definitely acquired tastes, but can't that be said of all foods?  after all, taste is subjective.  i'll eat just about anything, but i don't like everything i eat.  the owners of ban lao-thai need not worry though, i quite enjoy the food they prepare.  if you're willing to try something different, you might discover that you like their food too.
ban lao-thai
930, boulevard décarie
ville st-laurent, québec
H4L 3M4
T: 514.747.4805
payment methods: cash only
opening hours:
mon to fri: 11h00 – 21h00
sat: 12h00 – 21h00
closed sundays