i am a food lover and i am not one to shy away from new eating experiences.  when a lebanese acquaintance raved about a raw meat dish that she claims is practically the national dish of her ancestral land, i naturally got curious.  after searching for dining companions and a suitable restaurant, i found myself headed to laval with some friends who, i was happy to discover, are more adventurous eaters than i expected.  restaurant karoun was our destination and armenian/lebanese food was our prize.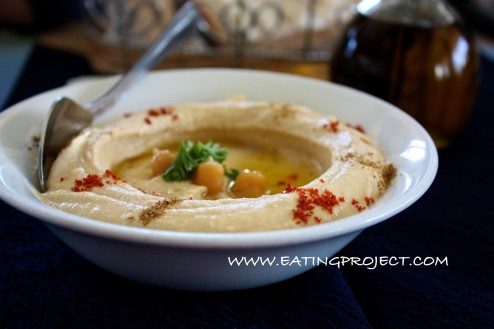 while the purpose of our trip off the island was to eat some raw meat, it was not the only thing we ate.  we had ourselves a little feast!  to start off, we were presented with a bowl of complementary hummus, a dish of olives and pickled turnips, as well as pita bread.  the hummus, with its little pool of oil and a few whole chickpeas, was rich and as smooth as can be.  this was nothing like the dry, pasty versions you get in supermarkets or at fast food stands.   i could've eaten the whole bowl with just pita bread and i would've left happy.  the pita bread, most probably commercial, was presented in a plastic bag.  this was probably for hygienic reasons as well as to prevent them from drying out.  it worked; the pita remained pliant throughout our meal.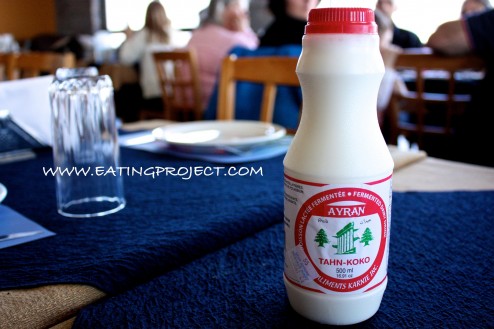 ayran was my drink of choice to help wash everything down.  this fermented dairy drink basically tastes like salty, watered-down yogurt.  a very thin version of an indian lassi if you will.  it takes some getting used to, but i found it to be perfectly suited for the job of palate cleanser.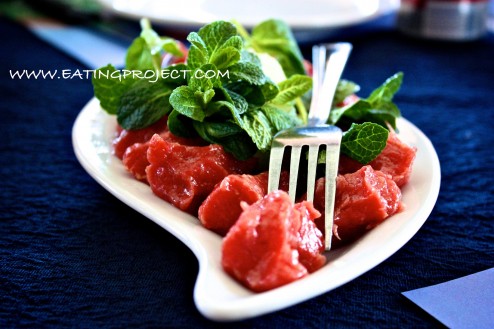 now on to the main attraction, the kebbé nayé!  the freshly ground, seasoned raw meat (beef in our case) was mixed with cracked wheat and shaped into little nuggets.  it came to the table with sprigs of fresh mint, a wedge of raw onion, and a little pitcher of olive oil.  normally, i wouldn't be too sure how to proceed but having done my research beforehand, i was prepared.  you scoop or spread some meat onto a piece of pita, garnish it with some onion and mint leaves, drizzle a bit of oil on top, and pop it in your mouth.  the kebbé nayé had an unexpectedly smooth texture punctuated by the crunch of the cracked wheat.  the meat was supposedly seasoned, but it was so subtle that i didn't even detect it.  having been mixed and shaped by hand, the meat was closer to room temperature than i had anticipated.  i was expecting something slightly chilled like sushi.  after the initial excitement of having my first bite of kebbé nayé, i must say that i was neither blown away nor disappointed.  that being said, it is an experience that i am more than willing to repeat.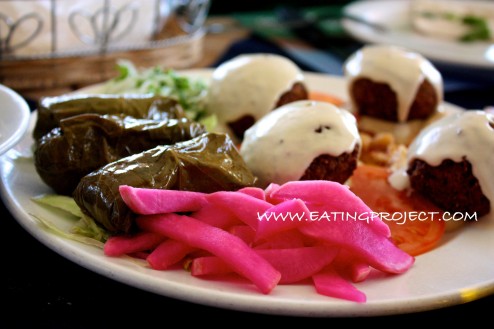 having decided that meat shouldn't be a sole focus of our meal, we ordered the vegetarian combo platter.  on this plate you'll find stuffed vine leaves, falafel, hummus, pickled turnips, tomato slices and salad.  the homemade stuffed vine leaves were loosely packed with rice and lentils and had a light lemony taste.  they were served cold, but not as cold as if they were straight out of the fridge.  these were by far one of the better servings of dolma i've had in restaurants, which doesn't surprise me since many places serve the canned ones.  nothing beats homemade.  the falafel, drizzled with tahini, had a crunchy exterior and a moist, fluffy interior.  having only experienced the dry and overly salty falafels from fast food places, the deep-fried balls of ground chickpeas at karoun were quite the revelation.  if this place were closer to home, i'd pick a falafel sandwich over my usual order of chicken shawarma any day.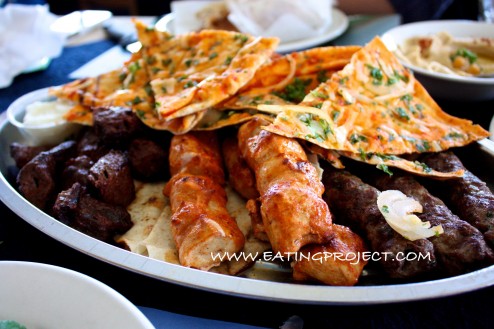 after the raw meat and the not meat courses, we went all out and opted for the trio mix. a silver platter heavy with three brochettes each of charcoal-gilled kefta, chicken, and filet mignon landed on our table.  the kefta, brochettes made of seasoned ground beef, were the juiciest ones i have ever come across.  the chicken, although moist and palatable, was slightly under-seasoned for my tastes.  the filet mignon was slightly charred on the outside and perfectly tender on the inside.  aside from the meat, the platter included grilled onions and tomatoes, a biwoise salad (which consisted of mainly of onions and parsley, some tum (their potent garlic sauce), and triangles of pita bread brushed with hot pepper sauce and dressed with onions and parsley.  i always like to end a meal with a bang and this platter delivered.
the service was courteous, quick and efficient.  the food was delicious and the prices were just right.  this meal was definitely worth the trip off the island and i look forward to making the trek again.
restaurant karoun
411, boulevard curé-labelle
laval, québec
H7V 2S8
T: 450.682.6820

payment methods: cash, debit, credit cards
hours:
tue to sat 11h00 – 23h00
sun 11h00 – 22h00
closed mondays