breakfast is the most important meal of the day.  isn't that what our parents, teachers, doctors, nutritionists and the like have always told us?  i'll admit that as a teenager, it was the one meal i'd skip because i didn't want to wake up earlier to eat something before heading to school.  as an adult, i have learned to love breakfast, especially when they are elaborate affairs.  i recently discovered the wonderfulness of an egyptian-style breakfast spread at coin méchoui in châteauguay and i wish i could have breakfast this way every day.  'spread' is definitely the right word to use here because the meal consisted of a variety of dishes served family-style.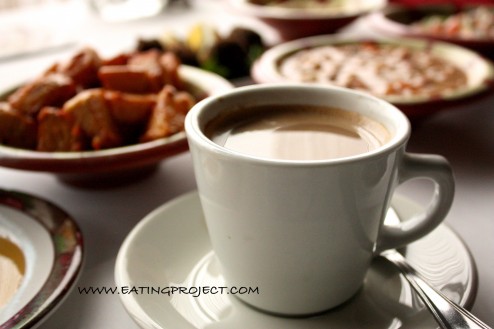 i am told that coffee is considered part of the traditional welcome in egypt. the one here is strong and rich – it was a real coffee, not the filtered stuff.  before i was even able to capture the perfect picture of my cup of java, our feast arrived. three dishes short of a dozen landed on our table.  in awe of the beautiful meal laid out before us, we hardly knew where to start.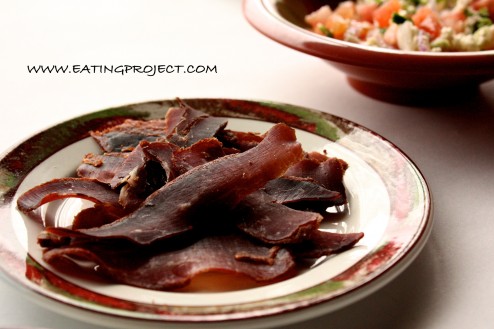 the bastourma, cured beef coated in spices, was thinly sliced.  it was slightly salty with just a hint of sweetness to it.  i found that every bite had a different taste and it was quite enjoyable.  i can't help but think what a great substitute for bacon this would be.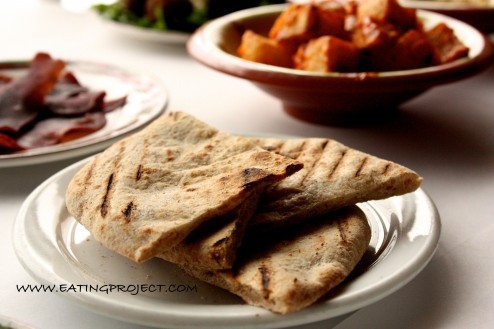 as part of the meal, we were served some grilled baladi bread.  this thick bread was perfect for scooping up hummus and honey.  the hummus was light and had the silkiest texture of any hummus i've ever encountered.  the spread was delicately flavoured with lemon, making the chickpeas the star of the dish.  we were also served a pool of honey that was thick and just a little crystalline.  it wasn't cloyingly sweet and i managed to eat a fair share of it even though i am not a honey lover.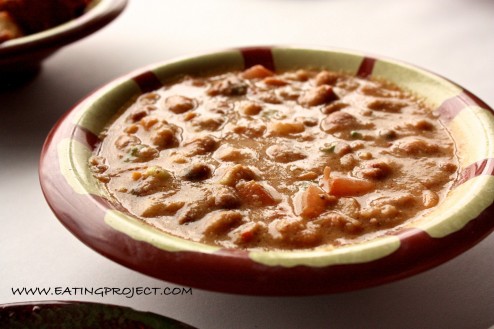 the one dish that i couldn't get enough of was the foul mudammas.  it consisted of cooked and mashed fava beans and, from what i could tell, parsley, onion, garlic, tomatoes, and lemon juice.  the consistency was halfway between soup and stew.  it was not aggressively seasoned, but i was plenty delicious.  i ate it both by the spoonful and scooped up with baladi.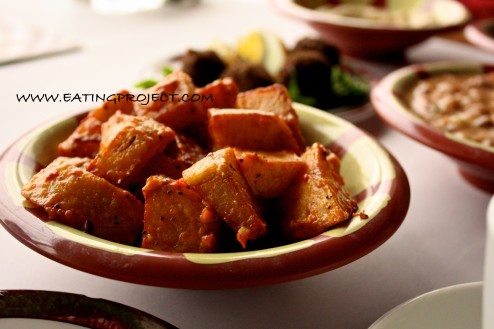 the delicately seasoned potatoes were another hit.  you can see that some whole spices were used in the making of the dish.  unlike the garlic potatoes i am so used to finding elsewhere, the ones here did not kick you in the face with garlic flavour.  i am all for bold tastes, but sometimes less is more.  the subtle spicing of the potatoes here allowed for a better tasting of the different flavours that make up the profile of each of our many dishes.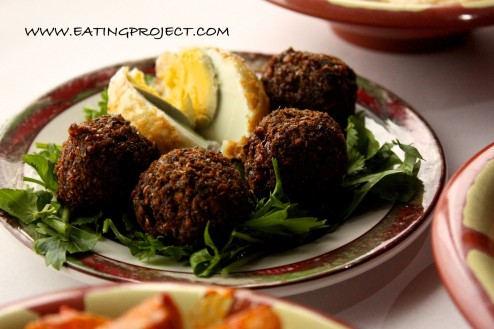 this breakfast afforded me the opportunity to have my first taste of an egyptian-style falafel and i loved the experience.  these falafels were made up of chickpeas, fava beans, leeks, coriander, and parsley.  the beautifully crunchy brown exterior gave way to an incredibly moist and flavourful green-hued interior.  after a taste of this, how can anyone go back to eating those dry and grainy one-note balls that are so readily available at montreal fast-food joints?  along with the falafel came the most aesthetically pleasing hardboiled egg i have ever been served in a restaurant.  it had a golden brown exterior, probably the result of being quickly fried in oil.  as for the taste, it tasted like a hardboiled egg.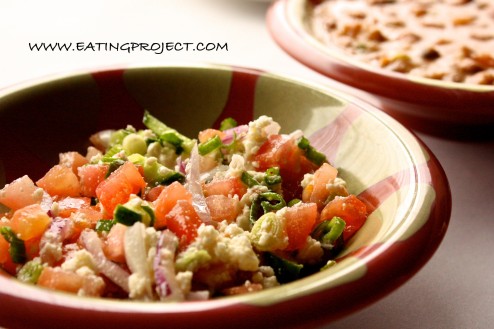 for a little bit of lightness, we were also served a tomato and cucumber salad that was garnished with red onion, scallions and crumbled feta.  it was refreshing and brought a taste of summer to the table.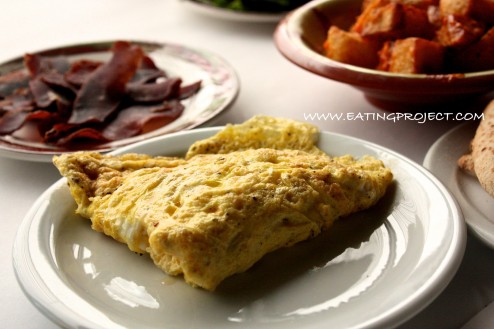 the omelette was standard, seasoned with a bit of salt and pepper.  it was nothing to write home about; just a little protein and filler.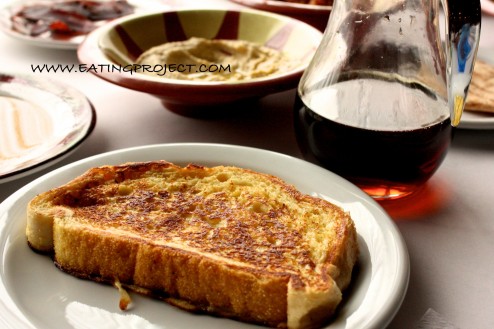 for dessert, we were each given a slice of french toast that had crisp edges and was not too egg-laden.  we were given table syrup (not to be confused with pure maple syrup), but i found that a smear of thick honey was a better choice.
to end the meal, we were presented with mint tea.  it was poured table-side into little glasses with tiny spoons.  the tea was steeped just long enough to bring out a delicate mint flavour without turning the tea bitter.  i added a little sugar to my glass, but now i wonder how it would have tasted with a touch of honey instead.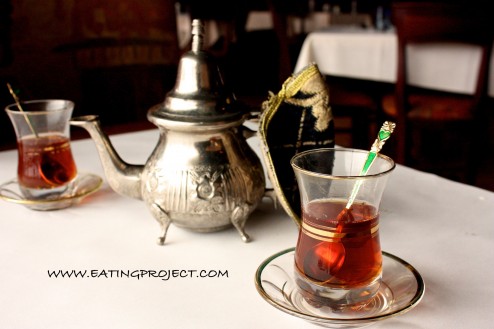 for the small cost of $12.99 per person, we had ourselves a great breakfast with lots of variety.  i didn't find any part of the meal particularly heavy.  everything was just right and left us satisfied without feeling uncomfortably full.
we were warmly received and service was friendly and efficient.  the food was brought out pretty quickly, but nothing tasted as if it had been sitting under a heat lamp or reheated.  if you are looking for a great morning feast that won't break the bank, give coin méchoui a try.  for me, it was definitely worth the drive across the mercier bridge. also, just for kicks, go check out the bidet in the ladies' washroom!
coin méchoui
77B, boulevard st-jean-baptiste
châteauguay, québec
J6J 3H7
T: 450.716.1213
payment methods: cash, debit, credit card
hours:
monday to friday 11h00 – 22h00
saturday to sunday 8h30 – 23h00
breakfast is served saturdays and sundays from 8h30 to 14h00