i've had a love affair with pupusas ever since my best friend introduced me to this little culinary marvel from her home country of el salvador.  the love affair has lasted over 15 years and will likely continue for the rest of my life.  a pupusa is a thick corn tortilla that is stuffed with a variety of fillings that range from pork to beans & cheese. not only do they appeal to both carnivores and vegetarians, they're also cheap and filling.  what's not to love?
for years, i've heard nothing but good things about los planes.  after many delicious meals at another pupuseria, i decided to give this one a try.  i can now confirm that the rumours are true: the pupusas at los planes are indeed very good.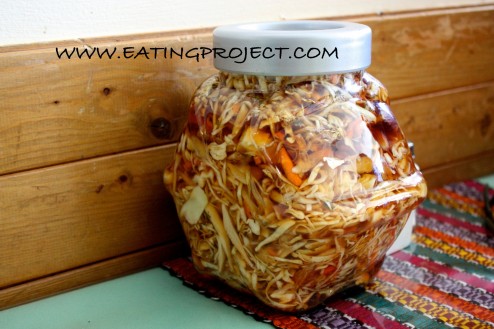 the spanish-only menu consists of a thin piece of wood with the menu items burned into it.  you will also find them listed in big on the wall.  if you don't know any spanish, there's no need to worry.  the friendly waiter will gladly help you.
my motto is: when in doubt, always order the specialty of the house.  you do not go to a pupuseria and not order the pupusas.  it would be like going to a taqueria and ordering a burrito instead of tacos.  keeping in line with my motto, i decided to order one of their combos that come with two pupusas, platanos fritos, and a drink for about $10.  as part of the combo, you have your choice of pupusas.  i opted for one pupusa revuelta and one pupusa con queso y loroco.  the former contains a mixture of chicharrón (pork), beans, and cheese and the latter is filled with cheese and loroco (vine flower bud).  both are solid choices, but i do have a preference for anything stuffed with cheese, so the pupusa con queso y loroco wins in my books.  all their pupusas have generous fillings with a good dough to stuffing ratio.  the pupusas are handmade when you order them, so a little patience is necessary.  while your stomach may be growling, take comfort in knowing that the slapping sound you hear in the background is that of your pupusas being lovingly shaped by hand before being slapped on the griddle.  it's better than hearing the beeping of a microwave, isn't it?
for those who have never eaten a pupusa before, it is important to do it right.  let's be honest here; a pupusa is a little bland without some accoutrements.  the way to eat it is by first topping your stuffed tortillas with curtido, a lightly fermented cabbage salad, and some tomato sauce.  these will provide a nice contrast of flavours and textures.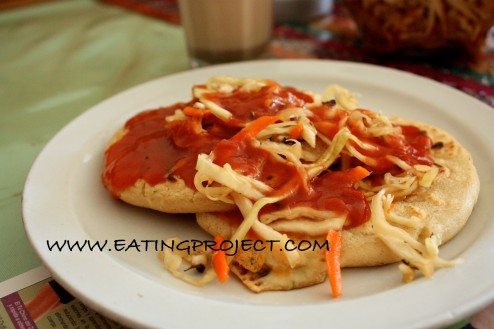 the platanos fritos that came with my meal can be eaten either as an appetizer or a dessert.  two halves of a ripe plantain are fried until slightly caramelized and served with crema.  the soft plantain were tasty, but very sweet.  since i am lacking in the sweet tooth department, i struggled a bit to finish the plate even after using generous amounts of crema to cut the sweetness.  it also didn't help that the pupusas were very filling.
another option when it comes to the combos is the one that gets you a tamal de elote instead of the fried plantain.  a tamal (singular form of tamales) is a dish made of corn flour dough wrapped in corn husks or plantain leaves and either steamed or boiled.  there can be a variety of fillings like meats, cheese, or vegetables.  the tamal de elote is made with yellow cornmeal and whole kernels, wrapped in plantain leaves and steamed.  the dough was smooth and the kernels had bite.  this little package was where hints of sweetness and tang from the crema melded into bites of deliciousness. this is a great breakfast item and works just as well as a dessert.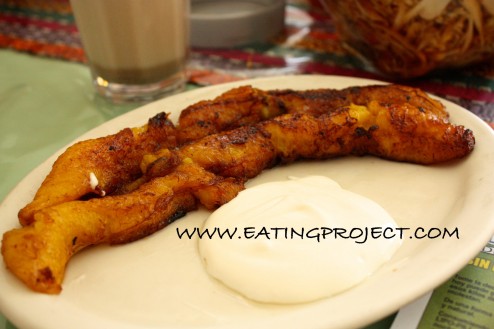 my drink of choice to accompany pupusas is horchata.  this is a drink that comes in many incarnations.  the mexican one is made with ground rice and the salvadoran one is usually made with morro seeds, tigernuts, and lots of cinnamon.  it is kind of hard to tell whether the horchata here was homemade because it tasted a lot like the one my friend makes from store-bought mixes.  it was very sweet with a lot of sediment.  i much prefer the lighter tasting mexican version, but i will not forego my glass of ice cold horchata when eating pupusas.
the pupusas were great, the tamal de elote was delicious, and the horchata helped wash everything down.  when i am looking for a filling meal without breaking the bank, this pupuseria usually comes to mind.
los planes
531, rue bélanger
montréal, québec
H2S 1G5
T: 514.277.3678
payment methods: cash, debit
hours:
mon to sun 11h – 23h