i always find it funny that people who slam restaurants in online forums think it necessary to state that they (or their significant other) are from so-and-so country or that they have visited said country in order to justify their saying that they "know" the food and therefore their opinion should supersede all others.  i find that to be an arrogant stance to take. the sense of taste is subjective and i am very aware of the fact that the epicurean adventures i share with you might not be your cup of tea and that your experience could be the polar opposite of mine.  i kept this in mind when a friend told me that she did not like her meal at the arepera i was about to visit and online reviews seemed divided.  i decided to find out for myself and headed to arepera du plateau determined to make up my own mind.
in case you were wondering, an arepera is a place that makes arepas.  it is what a pupuseria is to pupusas and a taqueria is to tacos.  arepas are an unleavened bread made of corn and an arepera will either serve them as an accompaniment to a meal or use them to sandwich a variety of fillings.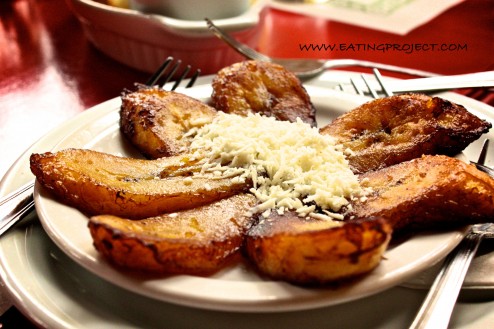 to start the meal, we chose a couple of items listed as side orders.  wanting to maximize sharing, we opted for the platanos fritos.  soft and ripe, the slices of fried plantain were not overly sweet and the salty cheese provided a nice balance of flavours. the yuca chips are a new favourite of mine.  yuca, also known as cassava or manioc, is a starchy, tuberous root that is native to south america.  the yuca chips were freshly fried to order and seasoned with just a hint of salt.  texture-wise, they were a mix of crispy-crunchy and they weren't greasy in the least.  although thinly sliced, some pieces were harder than your standard potato chip. chew carefully if your teeth are capped or crowned!  the chips were served with guasacaca, a venezuelan avocado-based sauce.  thinner and more acidic than guacamole, this sauce was highly addictive and i found myself using it on everything.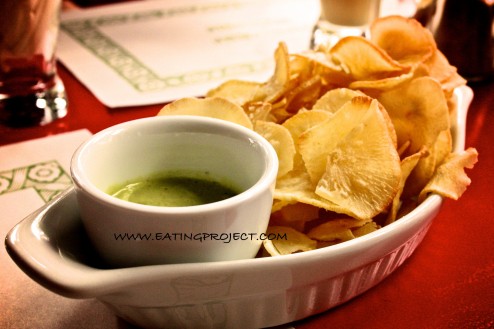 when it came to the main course, i went with what an arepera should do best and that is an arepa rellena or stuffed arepa.  at arepera du plateau, their arepas are handmade in house.  they are 100% corn and are gluten-free.  there are 32 arepas to choose from including meat, fish, vegetarian, vegan, and breakfast varieties.  i decided to go with a classic and opted for the arepa de pabellón, whose components make up venezuala's national dish.  the grilled arepa was split in half and sandwiched on the inside was a generous amount of carne mechado (shredded beef in tomato sauce), stewed black beans, plantains, and cheese.  the bread itself was crispy on the outside and soft and pillowy on the inside.  every bite of the piping hot arepa was a delightful mixture of flavours and textures – the meat was tender and the tomato sauce was not overpowering, the beans were soft, the ripe plantains offered a hint of sweetness, and the white cheese was just slightly salty.  while good on its own, adding a few squirts of the homemade gasacaca and hot sauce from the squeeze bottles really added a whole new dimension to the flavour profile.  it was difficult to eat without making a mess, but a delicious mess it was.  each arepa was served with a side of watercress salad and the ubiquitous guasacaca served as dressing.  the side salad will vary depending on the availability of ingredients.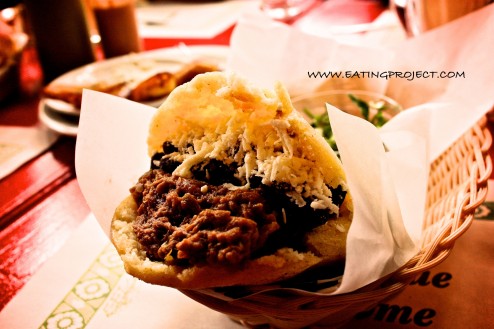 i also got to sample the arepa con chorizo de jabali which was filled with boar sausage, green peppers and onions.  the sausage had just a hint of spiciness and contrasted well with the subtle sweetness of the bell peppers.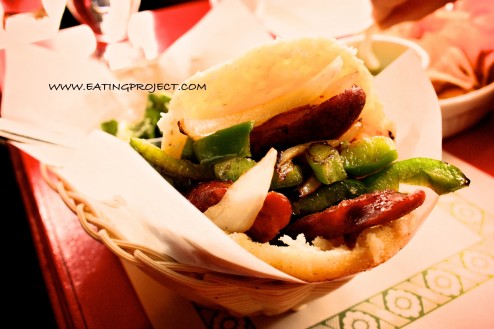 to wash everything down, i recommend picking their jugos de la casa or house juices over a can of soda.  after all, nothing says refreshments better than fresh juices of the day.  on the day of our visit, the choices were passion fruit, guanabana (soursop), and lulo.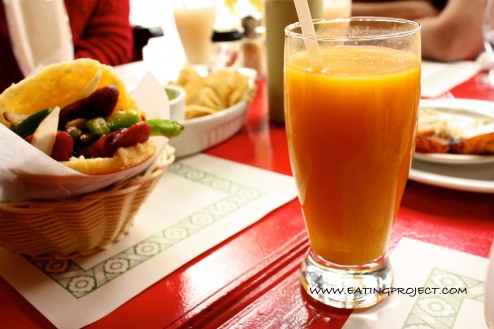 for dessert, i opted for the chocolate mousse cake.  it was a little more on the sweet side than i would have liked, but the small portion made it manageable for me.  one thing i would suggest is that you finish your juice before tackling the dessert. i made the mistake of sipping some juice between bites of my dessert and the once refreshing passion fruit juice was suddenly very acidic (a taste very similar to drinking orange juice right after brushing your teeth).  other dessert options on the day of our visit included passion fruit mousse and a plantain cheesecake.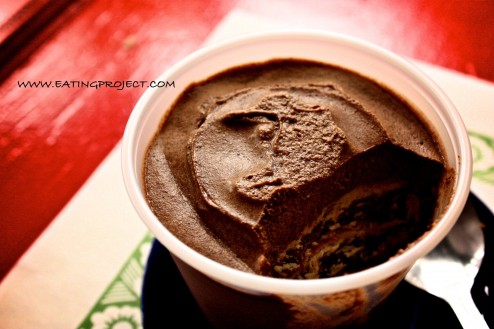 the restaurant is small and the place was packed when we arrived.  affixed to the door was a waiting list to which we had to add our name and the number of people in our party.  we sat outside and waited about half an hour while being tempted by the smells wafting through the periodically opened door.  it was a nice day and i didn't mind the wait. fortunately, my patience was rewarded with a delicious meal that i am eager to repeat.
i may not be venezuelan and i have never been to venezuela, but i quite enjoyed the food at arepera du plateau.  if my ancestry causes you to question my opinion, then so be it.  what's important is that i know what my taste buds like and they liked what was served here.
arepera du plateau
4050, rue de bullion
montréal, québec
H2W 1H1
T: 514.508.7267
arepera du plateau's facebook page
payment methods: cash, debit
hours:
tuesday to wednesday 12h00 – 20h00
thursday to saturday 12h00 – 21h00
closed mondays