every country has some form of fast food that defines it.  in canada, or more specifically in quebec, i'd like to think that it is the poutine.  of course, i am totally biased in this declaration because i am a poutine lover through and through.  in turkey, one of the most popular fast food offerings is the kumpir, which is in essence a baked potato with various fillings.
some of you might be wondering how a baked potato became a fast food phenomenon, right?  well, what sets this baked potato apart from the rest is the way it is prepared.  to make kumpir, a large baked potato is sliced in half and its contents are quickly puréed by hand with butter and cheese (usually kaşar or mozzarella) until smooth while still in the potato skin.  it is then topped with any variety of toppings ranging from the usual sour cream and chives to the unusual (for me, anyway) russian salad and sausages.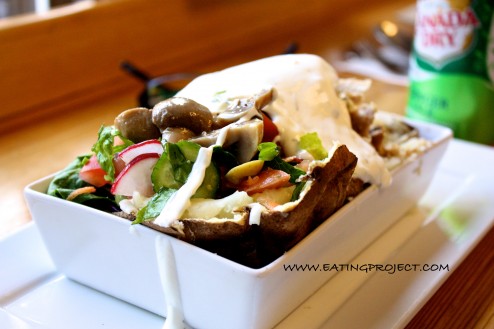 being a potato lover, i was eager to try patate au four, a tiny place in the plateau mont-royal that specializes in kumpir.  it has been open since 2004 and is the first baked potato shop to open up in montreal.  on the menu, there are six potatoes to choose from, but you can also use your imagination and pick ingredients à la carte to build your own potato.  every baked potato starts with a base of butter and mozzarella and for a little extra, you have the option of having it served au gratin.  lacking imagination, i decided to opt for the tried and tested ones rather than to build my own.
the tuna potato was topped with canned tuna, salad, shallots, olives and sweet corn. other than the potato and the corn, the toppings were served cold.  the chicken potato had chunks of chicken, salad, marinated mushrooms and tzatziki.  along with onions, olives, corn and red cabbage, the sausage potato was supposed to be garnished with roasted sausages, but these turned out to be cut up hot dogs. although impressive in sight and quite enjoyable to eat, the kumpir didn't exactly make my taste buds dance. there were also a few disappointments:: the corn was reheated in the microwave, which zapped some of its crunch and wasn't very effective since microwaved foods lose heat rather quickly; the russian salad was missing from the chicken and sausage potatoes; the tzatziki was runny and lacked punch; there was no red cabbage on the tuna potato; and the advertised beef in the sausage potato was missing.  i would've also liked it better if the potatoes were prepared with more butter and cheese.
at its core, the kumpirs were simple and filling, as well as a healthy alternative to the usual fast food offerings in this city.  they might not have been delivered as promised and the experience wasn't mind blowing, but i was quite satisfied.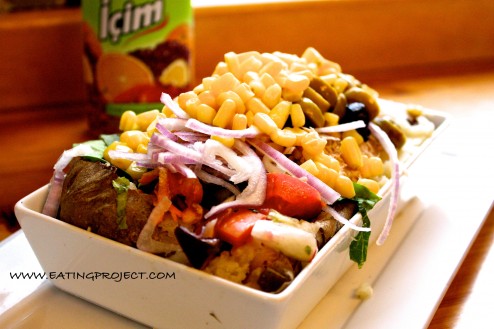 to wash everything down you can opt for the free glass of tap water or head to the self-serve fridge and pick something out of the ordinary.  alongside the more common soda offerings, you will find some imported drinks.  i wanted to go for the full-on turkish experience, so i paid a little extra for an imported soda.  i simply loved my carbonated fruit juice!  nowadays, you can find fizzy fruit drinks in any supermarket, but i found this one to be less heavy on the sweetness.  then again, it might just all be in my head as i am trying to justify paying $2 for a can of soda…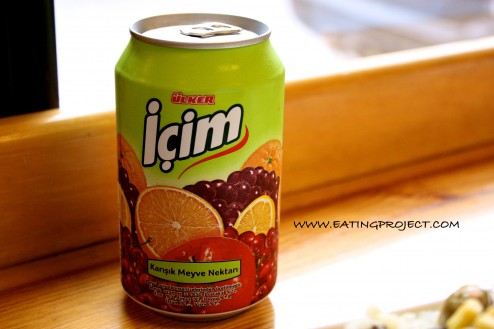 for dessert, i opted for two pieces of baklava.  there was the standard walnut variety and a pistachio roll.  i have no idea if either of these are made in house, but i have to say that they are some of the better baklavas i've ever tasted.  they were moist, not too sticky nor too dense.  most importantly for me, they were not cloying (those who know me will know that i have an aversion to very sweet things).  the baklava also had a hint of buttery flavour.  everything from textures to tastes was well balanced.  a true delight! spanakopita and rice pudding were the other dessert options.
to round out my turkish experience, i had a turkish coffee with dessert.  i'm not a coffee aficionado.  i will readily admit that i know next to nothing about coffee, so take whatever i write next with a grain of salt.  i found the coffee to be very strong; stronger than the greek coffees i've had.  there was a large amount of bitter sediment at the bottom of the cup and i had the misfortune of ending up with a mouthful of it.  maybe this is how turkish coffee is supposed to be served, maybe not.  all i know is that i am not eager to repeat the experience.  i'll leave the coffee drinking to the real coffee drinkers out there.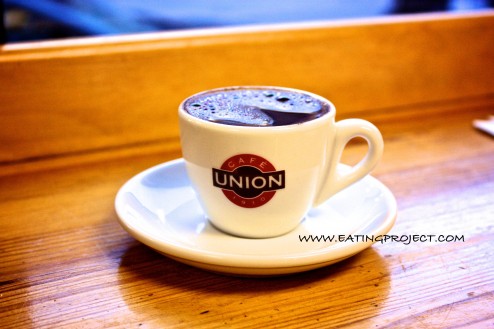 i may not have been blown away by the menu's main attraction, but i will gladly return for the friendly service and delicious baklava.  i would not go out of my way for the kumpir, but if i were in the area, i would not hesitate to eat another one.  patate au four is a tiny place with seating for about 12 people.  it is attached to a laundromat so if you live nearby, you could throw in your laundry, enjoy a kumpir and leave with clean clothes.
patate au four
231, avenue de pins est
montréal, québec
H2W 1P2
T: 514.844.6660
www.bakedpotatoshop.com
payment methods: cash, debit
hours:
tue to fri 11h30 – 22h
sat and sun 12h – 22h
closed mondays